Oh WOW! I have got to share the photos from my collaborated birthday party with my wonderful sister-in-law. We had a 1950s themed birthday party this past weekend and it was SO much fun! All of our friends really enjoyed it so I thought I would post some 1950s party ideas and tips that helped make our shindig a success!
First, we picked a color scheme. Reds, pinks, & black and wanted it to feel like a 50's diner threw a party. Since it was for both of our birthdays, we  collaborated on pinning to our Pinterest board our 1950's ideas. Everything made visual is SO much easier to envision how the party should go.
What I Bought
We ordered our black and white checkered table cloth from Amazon. It really gave that "diner" vibe without breaking the bank.
One of the BEST props we got was the HUGE jukebox standee that was just perfect! If you host a 1950s party, this is the one prop to get. You can find the jukebox on Amazon here.
Even though I don't drink pop (or "soda" if you're from the South) I just HAD to have Coke in a glass bottle with pink striped straws. The Coke from Mexico has real sugar in it and people really loved them. Get them here
I needed a lot of crepe paper so I ordered one 500 foot roll of each color – Hot pink & Candy Pink
Balloons I ordered online and rented a helium tank locally to fill them. We made our own balloon arch and I used  Hot pink, magenta balloons & white balloons
*TIP! Helium only lasts 6-8 hours! Don't fill your balloons until the day of your party!
Since this was a late night party, we did snack foods – white cheese fondue, pizza bites, veggies, mudslide milkshakes & chocolate mousse cake.
We used this popcorn maker to make our own freshly popped snack foods! So DELISH !
Things I Made
I made the prop hamburger and hotdog out of air dry clay and paint.
I made some prop candy since candy to fill jars is SO pricey. I used air dry clay for the sugar sticks, let them dry, then painted them. I used my food sealer and a strip of cellophane to wrap them in.
For the other candy jars I used wadded up paper and cellophane to look like taffy and balls of aluminum foil for more candy filler.
I cut out the music notes for the walls out of construction paper.
Using photoshop, I designed the 1950s party invitation.
I put it up on Zazzle so you can customize it for your own party, too! Check it out on Zazzle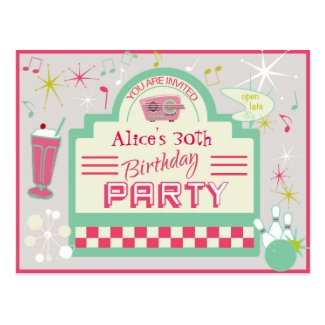 1950s Party Invitation Postcard
by
KellyCarolineDesign
Browse for more
postcards
from zazzle.com.
If you want to make it easy, check out the list I put together of ALL my party supplies for your 1950s party !
Well there you have it! I hope you're party goes just as well as ours! Don't forget to put thought into the music selection- keep it authentic and throw in a few 50's remixes to make it interesting!